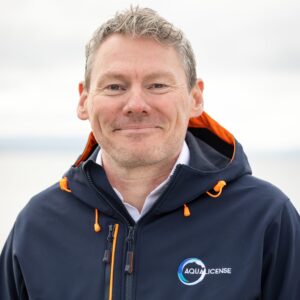 Ciaran Farrell
Chief Executive Officer – B.Sc. Environmental Science, M Sc. Environmental Engineering
Having had the privilege of living and working in locations including the UK, China, New Zealand, the Middle East and of course, Ireland over the last 22 years, I have gained experience in project management and technical delivery of the environmental assessments, while leading multidisciplinary teams for a wide range of project types including marine infrastructure and ports, renewable energy, aquaculture, pharmaceutical, food production and water treatment. As CEO of Aqualicense, the best part of my job is working with a team of great people with the passion and expertise required to achieve the goals of the company and our clients. When not in the office, I enjoy heading to a trail with the mountain bike – great for keeping both physically fit and mentally recharged!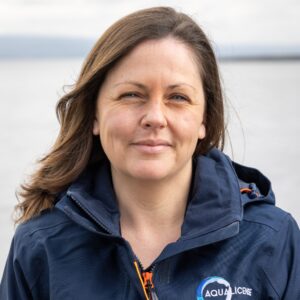 Dr. Sarah Cosgrove
Environmental Director– BSc. Marine Science, Ph.D. Marine Microbiology
I have over 16 years' experience in the marine sector, studying and working in the areas of marine ecology and microbiology and aquaculture. During this time, I have gained extensive field and vessel experience and participated in 8 major offshore expeditions. Following a five-year research turned project management role at the University of Texas, I returned to Ireland in 2020 and I am thoroughly enjoying working within the Irish marine sector. I hope to continue to play a role in helping protect our marine ecosystems as we secure energy and food resources for future generations and Aqualicense is a perfect fit for such ambitions. When not in the office, I love sitting in the campervan by the ocean with Bella the cocker spaniel!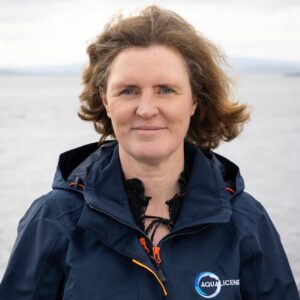 Nicola O'Brien
Geographic Information Systems & Cartography Lead – B.Sc. Physics, PGDip GIS
I have been working and progressing with the ever-evolving Geographic Information Systems (GIS) with a focus on the marine environment over the last 20 years. I have also worked offshore as a hydrographic surveyor and it was fascinating to be involved in the full process from collecting seabed data to creating valuable datasets and beautiful maps. Aqualicense is an innovative and forward-looking company, which makes working here exciting and fulfilling.
When not in the office, I love to be outdoors, walking along the shore with my dogs and hiking the hills around Ireland!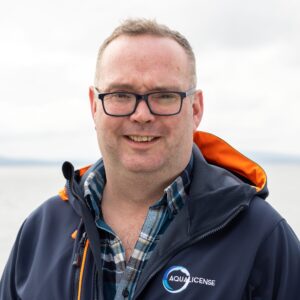 Damien O'Keeffe
Aquaculture Lead – BSc. Zoology
I developed a strong interest in Aquaculture during my final year in UCC, through my thesis which I undertook in the Aquaculture Development Centre in the Cooperage. I have spent 20 years working in aquaculture in Ireland, Scotland and Lake Volta in West Africa, in both hatchery and on-growing production facilities and with a range of species including salmon, trout, tilapia and cod. I have experience managing small and large teams, and I love working with people and seeing people grow and develop over their career. Aquaculture is my passion and I believe through our work at Aqualicense, we can help boost the Aquaculture industry and encourage the smart, sustainable use of our marine resources allowing Ireland to realise it's massively untapped potential. When not in the office, I enjoy spending time with my family and watching sport…while also dreaming about aquaculture!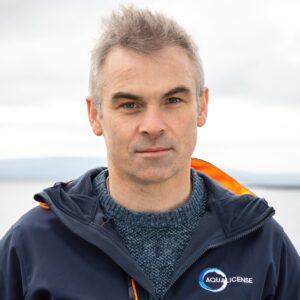 Risteard Ó Domhnaill
Stakeholder Manager – M.A. Theoretical Physics, M.A. Gaeilge & History.
I joined Aqualicense in September 2022 as Stakeholder Manager. I have spent 20 years documenting marine and coastal issues for film and television, in particular capturing the relationship between fishing communities and energy companies, both in Ireland and abroad. I hope to take that experience and apply it in a constructive manner so that coastal communities can benefit from new opportunities arising from offshore renewables. The challenges of climate change and energy security require big solutions implemented on a tight schedule, and by listening to the local communities, I am confident that real co-existence can be achieved in the marine space and through the work we do here at Aqualicense. When not in the office, I can be found cycling up and down the coast mulling over the endless opportunities over the horizon!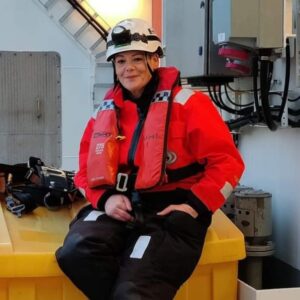 Caroline Whyte
Fisheries Liaison Officer – National Fisheries College, Second Hand Full COC
Having grown up in a fishing community and making a career myself in the sector, I know first-hand the effort, the hard work and the perseverance that is involved while working in fisheries. I speak the language of the fisher people, and that combined with my understanding of renewable energy developments and their importance to facilitate needed change around our energy resources, makes my role at Aqualicense the perfect fit. I do what I do because I would like to think of someone with the same level of empathy, compassion and understanding walking down the local fishing pier to engage with my own father. When not in the office, you will find me working on the farm or out with my father fishing pots!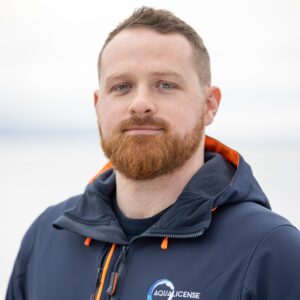 William Murphy
Graduate Consultant – B.A in Geography. MSc in Coastal and Marine Environments. HDip on Business in Fisheries and Aquaculture.
I have been developing my expertise in marine planning and aquaculture since graduating from my Master's program in 2020. Some highlights of my time in study to date have been receiving the Prof. Mary Crawley Award for Contributions to Geography and the Joey Murrin Memorial Award for my work during a Higher Diploma in Business in Fisheries and Aquaculture. I relish a challenging work environment, and at Aqualicense I am provided with the tools and connections to actively drive change in the world, and move towards a sustainable future. When not in the office, I enjoy hiking, snowboarding, and training for agility competitions with my dog, Bertie!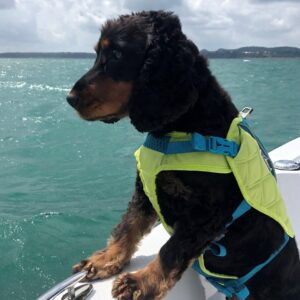 Bella
Chief Morale Officer 
Over the last eleven years I have perfected the ability to keep up a team spirit, take every opportunity for a belly rub and beg for left over lunches. I excel at knowing when the team need to take a minute out and will encourage 10 minute walks to the park for fresh air.  Aqualicense provides me with the perfect opportunity to work in a dog-loving environment, to meet and greet office visitors and to catch up on naps when needed.  When not in the office, I enjoy long beach walks, meeting up with friends and the odd boat trip.