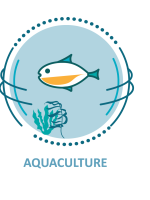 Aqualicense acknowledges the role seafood production and aquaculture plays in supplying the world with steady food sources. We have therefore positioned ourselves at the forefront of this rapidly growing sector by assisting our clients in the licensing and operation of their Aquaculture sites and by offering a customisable service to help overcome some of the biggest challenges faced.
The Aquaculture lead at Aqualicense is Damien O'Keeffe, who has 20 years' experience in both production and research in the Aquaculture industry. Damien's background, which includes many aspects of fish farming, has led to both a strong understanding and ever-growing passion for the industry. At Aqualicense we pride ourselves on 'doing things differently', and recognise the changes the Irish industry needs to make to fulfil its vast potential. Aqualicense will offer farmers practical solutions to practical problems and strive to add value to a client's aquaculture business. Damien will meet you at sea or on land, design specific services for your individual needs, support you in meetings and through stakeholder engagement and act at all times as if every fish is his own to ensure that your business is a success.
Through Damien, Aqualicense are here to offer a wide range of support services to industry, from consultation to business assessment, new production methods and portfolio management. All members of the Aqualicense team have a strong relationship with the marine sector, be it through conservation, production, or personal history. Damien is supported by a highly-skilled, diverse team with significant knowledge of the factors influencing aquaculture production globally. The team's skillsets include marine planning, ecological assessments, scientific review and advisory, policy analysis, funding mapping and GIS specialisms. This range of expertise paired with Damien's extensive experience in the industry ensures a successful and innovative service offering, executed to the highest of standards.
Our knowledge of each stage of the application process, legal experience and genuine passion for the aquaculture industry ensures our clients' needs are meet and realised in a robust and professional manner. Aqualicense also provides sustainable and innovative approaches to the operating of these sites through continued consultation and management.
Our Aquaculture service include, but are not limited to, the following (Click on the e-brochure HERE to read more and view the full range of services offered):
Constraints Assessment

Foreshore Applications

Strategic Planning

Innovative Practices

Public Consultation

Risk Assessment

Problem Resolution

Data Capture and Interpretation
The steady rise in production of seafood through Aquaculture applications can present many differing hurdles for existing and new entrants into the sector. By partnering with Aqualicense, clients can expect high-level professional work, barriers navigated in an efficient and compliant manner, and results in a profitable, innovative, and sustainable return to not only Aqualicense and its clients, but the surrounding environment in which we operate.